Back To School Uniform Project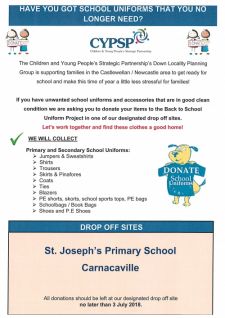 The Children and Young People's Strategic Partnership's Down Locality Planning Group is supporting families in the Castlewellan & Newcastle area to get ready for school and make this time of year a little less stressful for families!
If you have unwanted school uniforms and accessories that are in good clean condition we are asking you to donate your items to the Back to School Uniform Project in one of our designated drop off sites.
Let's work together and find these clothes a good home!
St. Joseph's Carnacaville will be your local drop off point.
All donations should be left at our designated drop off site
no later than 3 July 2018.
Ten Foundations Charity Schoolbag Programme
Ian Campbell, Grandparent to Ruby(P7) and James Cushnan(P5) is the founder CEO of Ten Foundations, A charity working in the Philippenes with families living in extreme poverty. Their livelihood programme buys sewing machines and teaches women how to sew and make schoolbags from used fabrics and recycled materials.
Ian met all our children at assembly and told the story of the families he works with and the school bags.
we are asking you if you need to buy a school bag or insulated lunch bag for next term please consider the Ten foundations bags.
We are holding a large stock of various bags in school and if you wish to see them or purchase one please call at the front desk and Mrs O'Gallagher or Mr McCann will look after you. Schoolbags are £20 and lunch bags are £10. All proceeds are returned directly to the families involved and Ten Foundations do not pay any salaries and is run by volunteers.
Stunning Views of Carnacaville
Thank you to Gavin Martin of Magnetic North Drone Photography for providing such splendid views of our school grounds and stunning surroundings.
School App Available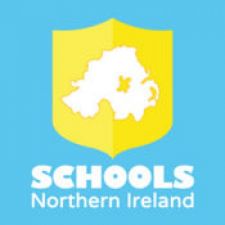 Upcoming Events...
Wednesday, 20th June 2018
P7 leavers Mass (7:00pm Church of the Assumption Newcastle)
Monday, 25th June 2018
Art and Craft After School (P1-P3 2pm -3pm pupils can get 3pm bus. P4-P7 3pm - 4pm)
Friday, 29th June 2018
Last Day of School (School Closes at 12 noon NO Bus today.)
St Josephs Primary School, 25 Carnacaville Rd, Newcastle BT33 0JS
028 4372 2185